Thursday, March 31, 2005
Taste test
So I ended up tinking...well, acutally backwards un-knitting meaning not the pull-and-it-unravels kind...the cast on edge of section 19 and subsequent rows 1-5. Can you say PAIN IN THE ASS? I tried and tried to find a way t o graft this freaking section on and have it look decent and I just couldn't do it because that stupid knitted cast-on edge kept screwing me. After about try number six I finally just gave up and took the whole edge apart. I've finished re-knitting everything I ripped and I cast-off on the edge that used to be the knitted cast-on edge. Now I just need to figure out if I should try using three needle BO to graft it again or something else.
I'm just so over this dang scarf. I am on the hairy edge of putting it away unfinished, not to see the light of day for who knows how long. On the other hand, I could console myself with knitting I-cord or weaving in ends until I recover some patience :)
And Then...
Have I mentioned I LOVE Chipotle flavored Tabasco? I have to keep two bottles on hand at all times because I go through it faster than ketchup or any other condiment and there are some things I just cannot enjoy without it. So during my last trip to the grocery store, I grabbed a bottle to replenish my stash, and then, while perusing the more ethnic condiments (in our two square feet of shelf that's dedicated to Mexican food that doesn't have some evil American coroprate fast food logo splashed all over it), I spied the OSO yummmy
Bufalo brand Chipotle hot sauce
(very hot! according to the label) that I've enjoyed at restaurants but never been able to find locally. So I grabbed a bottle of that as well and tonight I played them head to head on my paper bag of chips and Fajita Burrito Bol.
So here's the dirt. Not only do I love Bufalo brand Chipotle sauce WAY more than the Tabasco variety, it's also about 1/4 the price (apparently somewhere along the way, Tabasco decided they were haute condiment and warrant $4.29 a bottle. puhleeze).
Bufalo brand=thick, spicy and delicious Chipotle yum. Condiment nirvana.
Tabasco brand=mostly vinear taste with what I now recognize as substandard Chipotle flavor.
I smell breakfast burritos in my future.
p.s. stop laughing about my pathetic thinking that finding "Mexico's #1 hot sauce for 60 years" at my grocery store is some kind of exotic discovery. I live in Minnesota, remember? And don't freaking come here expecting to find hot Rotel, either, because it doesn't exist. Fortunately I have some great friends from Kansas that import it for me by the case.
Last nights dinner
Steak au Poivre, smashed potatos and spring vegetable
s. Yummmmmy
I was planning on grilling, but it was rainy, cold and windy yesterday so I decided on the above as an alternative.
I've never acutally made Steak au Poivre which is weird because it's really easy and I LOVE black pepper. It was a perfect choice because I had picked up some India Extra Special Bold Peppercorns from
Penzey's
the last time I was there. These little buggers are too big to fit through my peppermill, so I've been having to grind them in the mortar and pestle on an as needed basis and this classic French bistro dish was a fitting use of what Penzey's claims is the cream of the pepper crop.
I had to substitute a splash of red wine for cognac in the sauce, but it was still delish. Even boy, who is not a big fan of pepper, loved it. And how can you go wrong with a big pile of smashed potato love? The tender-crispness of the pretty vegetables was a perfect foil to the richness of the steak and sauce.
My Angela Little Kitty is the newest
Purrrfect Kitty
candidate, (who BTW was driven about out of her little kitty mind by the above meal) so I thought I'd show off her pagent photo:
She's all curled up in the sink because she knows the colors of the counter top flatter her complexion :)
Wednesday, March 30, 2005
Section 19 is complete!
Here it is:
With all of it's glorious ends to weave in, of course...
I started attatching it according to the instructions using three needle bind off, but I didn't like the way it was coming out, so I ripped. I'm going to re-block everything and then explore an alternative attatchment method, perhaps matress stitch? Suggestions are welcome. I don't care for the two color knitted cast on at the edge of this secion and I wish I would have used something different. It's not as stretchy as the rest of the piece which is part of the attatchment problem.
Anyway, I'm thankful to be done with all but the I-cord knitting. The verdict is still out on whether I'll acutally wear this thing or not.
Next up on the knitting agenda, something for summer and some stash knitting. I have two summer tank patterns with yarn waiting to be knit up, but I also want to make
this really cute T-shirt
as a knitalong with
Carrie
She and I have both loosely committed to making a garment sometime in the near future and I like the t-shirt idea, but we need to come up with an alternative yarn since neither of us are much into the $50-might-hate-it thing when it comes to t-shirts.
On a completely different subject, there's a blog I like that comes up occasionally on BlogExplosion that's all about new/different food items, and one of the things he wrote about a while back was
Orville Redenbacher's Cinnabon microwave popcorn
. pay. no. attention. to. the. nutritional. information. It even comes with icing that you use to turn the whole bag into a presumably delicious mess. Ever since I read that post, I've been craving said popcorn but have been unable to find it ANYWHERE around here. SO, if any nice visitor is willing to send me some, I'd be happy to send you your treatie (or other cool thing) of choice in trade. FYI: I make a seriously delish chocolate chip cookie, among other things. At the very least, give me the dirt on whether this stuff is acutally good or not.
Tuesday, March 29, 2005
I've been a slogger
As in slacker-blogger??
I spent the afternoon with
Carrie
chowing on deeeelicious egg salad sandwiches, fruit and chips. YUM! We also took a walk with this guy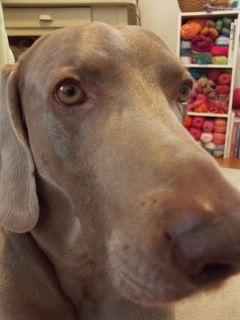 (or perhaps it would be more accurate to say he took us with him on a neighborhood scouting adventure) and did some knitting. I'm still poking away at section 19 of the Color on Color, but now that I have laid eyes on the awesome
Yarn Girls Knitting Journal
of Ms. Knit-Whit, I'm in anxious to have something new to put in mine in an attempt to make it as cool as hers.
I'm psyched for the two hours of Amazing Race tonight...the previews look GOOD, and I need a little mindlessness after spending my morning getting defeated on the phone by the city where we are building for the umpteenth time. Apparently paying $14K JUST FOR BUILDING PERMITS doesn't warrant a little common sense, rationality or courtesy on their part. Sigh.
Sorry about the lack of pics lately. I'm photographically depressed.
Monday, March 28, 2005
Back to work
Despite having suffered through a horrible buffet brunch yesterday, we had a nice afternoon. Lounging, DVD's, a couple of naps....a decent lazy Sunday. I didn't even feel guilty for having a mocha Frappuchino for dinner.
It's back to work today for me. I have some house building things that need attending to, and I'd like to get outside and get started on switching out my winter window box decorations. I also need to de-burlap my Alberta Spruce trees and maybe do a little clean up in the garden. There's no sign of anything growing out there yet but hopefully by the end of the week stuff will be waking up and I'll have some happy spring pictures.
One of my weekend projects was to make a slideshow on Flickr that is a visual timeline of our house build. I plan to add to it as we progress from now on and hopefully it's interesting to more than just me. Take a look
here
. Bitter cold, boot sucking mud and filthy dirty homeowners not included :)
Carrie
just called and invited me over for lunch tomorrow! YAY! She's making egg salad sandwiches, and she's apparently decided to indulge me. She knew I was craving one after hearing about her coloring eggs, and I can't wait. Of course that means a little knitting will be going on as well which bodes well for the Color on Color.
The flyer for our annual all-neighborhood garage sale just showed up, so I guess I had better start thinking of all the things I need to purge in anticipation of our big move. Maybe if I sell all the furniture, it would force me to find a way get the house finished faster... If only I could sell it all for tens of thousands of dollars I'd be set
Sunday, March 27, 2005
Yay for spring
We were invited to dinner at a friends house last night, and she asked me to bring a dessert. She must have known how I've been dying to make a special treat
A fresh fruit pasry cream tart...spring on a plate. It's one of my favorite desserts. I think it turned out nicely, although I discovered too late that I was out of apricot jelly for glazing and had to use raspberry, hence the slightly weird color. Oh well. I topped the custard filled shortbread crust with fresh strawberries, kiwi and pineapple. It tasted wonderful and our hosts, Michelle and Larry, gobbled it up. Recipe for both crust and pastry cream were from the
Joy of Cooking
.
We had a nice evening and I managed to dring WAY too much so I'm feeling less than thrilled about having to go out for a family brunch this morning. Hopefully the pot of coffee next to me will start to work it's magic and get me feeling a little more in the spring spirit soon.
We've had a busy last few days again as usual, and we spent a good part of yesterday slogging around in the mud at the house site again, so I'm my plan is to eat a lot at brunch and then spendthe afternoon and evening lounging around on the couch watching movies. And have I been duped again or is it true? A new episode of DH tonight?
Thursday, March 24, 2005
Color on Color
I got sidetracked by my day of leisure yesterday and and I forgot to post! Isnt' it weird how the less you have to do the less you accomplish?
As you can see, I'm still far from finished with the Color on Color, and I think I'll be 100 before I have all of the stupid ends woven in. I seriously think I've spent more time with a darning needle on this thing than I have spent acutally knitting. It's making me a little psycho because I HATE to weave in ends anyway, and the only way I've been able to get a neat look is if I weave each strand in separately which obviously means double the work. I've also realized that there's a part of the section 16 garter band attatchment that I'm not happy with so I'm going to have to fix that today. Boo.
Here's the mistake I talked about from before:
*the directions in section 16 for row 64 should read k8 #573, (
K1
#652, k1 #573) 6 times, p1 #652, k4 #573.
I'm working on the very last part of section 17 now, and I decided that I wasn't going to knit the little triangle ears like the pattern says since IMO, it voilates the squares and rectangles theme of the rest of the piece. So I've continued for the same number of rows as the pattern calls for without decreasing and made rectangles instead of triangles. I can't tell if I'm going to like this or not, but if it's too weird I'm just going to leave them off. I'm also not going to do the chain crocheted I cord...
Another thing I've found that I dislike is in section 16 where we're instructed to knit the long stockinette stitch rows with #896 and then just run the yarn back through the stitches for a "decorative effect" (?). It looks unfinished and leaves the edge looking ratty and I think I'm going to have to go back and cast these stitches off properly to be happy.
I'm antsy to finish now, especially since spring is here. If I'm really dediated I might have all of my ends woven in by next fall :)
Tuesday, March 22, 2005
Sticky needles
It was great to have a day off from the house project for the first time in a while, and I'm glad to rejoin the ranks of the clean clothed and mud free. Friend and fellow blogger
Carrie
came over for a lesson in sugar cookie cutouts with royal icing. We met at the baking supply store and picked up some goodies for decorating first, and then floured, rolled, baked and decorated the afternoon away. I even made us a yummy lunch of a revised version of the Artichoke Dip from last weekend and fresh fruit. We both gobbled it up.
Here's my finished little cookie garden:
And specially for our friend and fellow food, knitting and creativity blogger Mariko of
Super eggplant
It's a cookiepeep...isn't that just the cutest thing ever?
Carrie even did the clean up! Once we managed to de-ice ourselves we got a little knitting in, too. I'm happy to report that I've finally completed section 16 of the Color on Color scarf and I'm ready to attatch section 12. Whoohoo! I'll have pictures tomorrow.
Monday, March 21, 2005
Virtual yum
We spent the day busting our butts on the house project again yesterday, but fortunately I think we got everything in place for a successful pour of the upper level floor today.
All that work makes me hungry, and when I'm in the mood for comfort food, my favorite place to go is a little hole in the wall restaurant I've mentioned before called Taste of Thailand. We go at least a few times a month, and the food has never been anything but fabulous. Unfortunately they're not open on Sundays, which is when it seems like we most often have the craving. So, in honor of wishing I could have had great Thai food but having been too busy to make it happen last week, here's a little virtual meal at our favorite restaurant. Did I mention they have our order memorized?
We'll start with an order of fresh spring rolls
Now, of everything I've ever eaten here, these are the easiest to duplicate at home assuming you have the time. They're also not typically Thai, but a delicious nod to Vietnamese. I love to make a whole tray full as buffet party food. At our restaurant, they're served with a sugary vinegar reduction with red pepper flakes and ground peanuts, which IMO, is absolutely the only sauce a spring roll should ever see. I crave these babies in my sleep.
On to the entrees. For boy, it's the standard Pad Thai, medium hot with chicken. For him this dish is the ultimate barometer of a Thai restaurant, and he orders it wherever we are. He would say and I would concurr that our restaurant makes the best Pad Thai we've ever eaten, even at twice the price. Noodley, slightly charred, spicy, salty and sweet to perfection, there's no joy like a searing hot plate of Pad Thai being set before you at the table. Fortunately for me, he's usually willing to donate a forkfull or two.
My favorite entree is from a rotating palette of three, and I've always been so busy waiting to chow down that I have no idea the proper Thai name is...stupid American me. Anyway, it's basically a delicious, thin and perfectly balanced sauce that surrounds a pile of veggies. It's either number 43, 44 or 47 for me, the variation being the addition of ginger to the sauce (#43), or Thai Basil and jalapenos (#47). There are just not enough yummy words to describe how much I love this basic, simple dish. It's really sort of silly considering it's just a bunch of regular stuff all basking in a sauce of love with a little rice. I'll take mine medium hot with chicken, please, an this baby happens to be a number 47. ( I must have been having an extra spicy craving.)
For dessert, you can ask for sticky rice with mango but they probably won't have any. Dissapointing, yes, but we've been in on several occasions when one person takes our order and then goes in back to cook it, so we really can't complain. I'm just happy they stay in business and I'm usually too full for anything other than a fortune cookie for dessert anyway.
So you can see how I'm having serious issues with moving too far away from this place to be able to run in for a quick weeknight supper. Pad Thai I can manage on my own, but I'm hoping that the recipe for my plate of love will somehow magically materialize and I'll be able to whip it up at home with my kickass
wok burner
I'm back out to the site today to supervise the floor pour. I'm holding my breath that everything goes well and I have nice, smooth concrete floors in a few days. And yes, my legs are still sore to the point that it hurts to sit.
Saturday, March 19, 2005
Cocktail hour is upon us
We're invited to a party tonight, and I'm looking forward to a little libation after our hectic last week, even though my legs are still so sore that I have no idea how I'll possibly be able to walk in my de rigeur black stiletto boots. I think I'm acutally more stiff today, and we're both walking like such trolls that people at SuperTarget were giving us weird looks.
We stopped into the liquor store earlier today to pick up our beverage of choice for the evening. I was intending to get a bottle of wine, but for whatever reason, I ended up entranced in the kiddie booze aisle. I've never really noticed the variety of flavored liquers and frou frou beverages that are avaliable these days, but lemme tell ya, whatever your artificial color of choice happens to be, there's something on the shelf to poision yourself with. I ended up with Grape Pucker, which may or may not have something to do with me wearing my lavender cashmere sweater and an unconscious desire to have something that would match my outfit. A girls gotta look cute, right?
Anyway, then I got sucked in by the little recipe book tags they had hanging on the shelf by all this stuff, and that prompted me to peruse the
DeKuyper website
upon arrival back home. Now I want the whole rainbow of pretty colored fruity flavored sugarbooze. I'm imagining the themed party possibilities already. Scary.
Here's a pic of the selection for tonight:
After a little background research, I proceeded to test out a few recipes, and here's what I decided on:

Purple drink #1
Equal parts:
Grape Pucker
Vodka
splash of sweet and sour mix and topped off with lemon lime soda over ice. (This is a vague interpretation of what the website calls a Purple Haze.) This is also SO!YUM! with some half and half added...tastes like a grapesicle.
Purple drink #2
Equal parts
Grape Pucker
Capt. Morgan Parrot Bay (coconut rum)
Peach schnapps
splash of sweet and sour and top off with lemon lime soda
The only thing missing is some
Bubble Tea bubbles
, which, alas, I did not have the foresight to prepare.
I suspect that both of these coctails have hangover written all over them. Just in case I wise up and return to the world of adult drinking, I picked up this:
I've got the spinach-artichoke dip and the black bean and corn salsa ready to roll, and I'm guessing these two items will pair much better with the Cab than the purple crap. I'm looking forward to nibbling on both of these treats along with the guac that I'll make upon arrival.
Cheers!
Friday, March 18, 2005
I finally found a minute to shop...
Last Sundays' paper sits unread on my table. My fingers are so sore that I can hardly type and my body feels like it got run over by a truck. O the joys of homebuilding.
We were racing a deadline the past two days to get our steel hung for our upper level floors and then get all the radiant floor heat tubing installed in preparation for pouring the concrete slab. This was an incredible amount of work, and my only other comment at this point is that whoever invented rebar mesh is pure evil.
Anyway, we're SO glad to have this done, but in a cruel twist, the weather has not cooperated with our plans to pour and finish the slab today and we're on hold until Monday. Boo.
We owe a huge thanks to
Carrie
and her husband Kyle for running out to the site last night to help us finish things up.
I've just been hanging out today trying to catch up on stuff that's been neglected this week. Carrie and I did find time to run over to one of our LYS to check out a sale.
From the
Scarf Style
book, one of the other things I immediately put on my TBK (to be knit) list was the Turtleneck Shrug by Teva Durham. I managed to score a great deal on a yummy grape colored Galway wool
Total cost: $13.25. Pretty neato.
I'm off to gather ingredients to make some party chow for a friends birthday celebration. I'm planning to make
hot spinach-artichoke dip
(I'm going to add sun dried tomatos), my special black bean, corn and tomato salsa, and guacamole, provided I can get ripe avocados. I think I'll also come up with some kind of treat, but I'm postponing that for the moment due to lack of inspiration.
Tuesday, March 15, 2005
FYI: The Betty Crocker cookbook is avaliable at your local bookstore
No pictures, life-altering words or family heirloom recipes today. I have a rant.
First, lets get clear on the fact that I am a can-do kind of girl. One of my mantras is "how hard can it be?" There' s not much that I wouldn't try to tackle because it will be a learning experience no matter what and that's what drives me. I think if more women shared my optimism about what we are capable of the world would be a better place, but that's a whole different post.
Today I'm not talking about rocket science, chemical engineering or mapping human DNA. What's really bugging me lately is those who feign kitchen helplessness. Nothing annoys me more than people who claim they can't cook. Maybe you've heard this too...those people who not only say they can't cook, but carry on about it and bring it up at every opportunity as if it is the cutest most endearing quality ever. Hullo? I mean seriously, people. Do you really think your supposed inability to meet what is a basic human need without the assistance of the golden arches or a take-out menu is something to be proud of? Preparing food is a necessary skill that goes along with being a human with opposable thumbs, so step up to the veritable plate and quit whining. Better yet, tell the truth. Admit that you don't WANT to cook, don't LIKE to cook, or are just too freaking lazy to cook, but don't try and convince us that you can't. Claiming you "can't cook" isn't cute or clever or orignial or interesting. ITS JUST PLAIN STUPID and it's a ridiculous lie. If you can read, you can cook. Period. So please, shut up and get out a spatula and good old Betty Crocker and follow the directions. Realize that those of us that
know
we can cook aren't working some kind of extra secret black magic spells. It's called reading a recipe. K?
Monday, March 14, 2005
Muddy Monday
I spent the day at our construction site, overseeing the pouring of what will eventually be one of our rooftop decks. I can smell the BBQ and hear the glasses clinking already.
I'm so pleased that this first stage of our roof is finally on. We're planning on getting some more steel hung this week and then pouring the floor slabs for my art studio, the guest bedroom, gym and media room. I've got my fingers crossed that we manage to crank this out before spring emerges for good and we are forced to take a break while the gound and roads thaw. It's ironic that I'm wishing for the weather to stay cold and frozen because this time of year usually finds me with serious cabin fever and antsy for riding season, gardening and tank tops.
One thing that I find really neato about the house is that we've got some pretty serious looking steel:
This particular beam is not one that will remain exposed, but there are similar, longer beams that support the roof joists that will be on permanent view.
I don't know why this big stuff fascinates me so much except that I think it's representative of the overall mood I want the house to convey: industrial and strong with a somewhat larger-than-human scale. I'm also looking forward to how this rough-seeming character will oppose itself against a sleekly modern interior.
Sunday, March 13, 2005
Forging ahead with the house
It's been a busy weekend on the homebuilding front and as a result I haven't had any time for cooking, creating or blogging.
On Friday, steel was set for the roof over our master bedroom and we spent some time out at the site covering all the window and door openings in this part of the house in preparation for pouring the concrete slab. Since winter is still sticking around in full force, we need to close off and heat this room to keep the concrete slab above at a reasonable temperature for curing.
Here's what it looks like from inside now that the joists and decking are in place:
I'll head out tomorrow morning to set up the heater while the concrete crew is pouring and finishing the slab, and then we're ready to set the steel for the upper level floors. It's really exciting to see the spaces become more and more defined with each step ahead.
I'm looking forward to a relaxing evening at home tonight and the new episode of Desperate Housewives.
(thanks to our pal
Matt
for remembering to take a few pics)
Friday, March 11, 2005
CHIX Chow
As promised, here's a shot of the Ci**abon clone rolls hot, frosted and ready to be devoured
Not too glamorous, but let me tell you, these were absolutely the best cinnamon rolls I have ever baked or eaten. And they out score their namesake by about 100 to 1. They're crazy yum.
As I mentioned yesterday, the recipe is detail overload. I followed the ingredient list almost exactly with the exception of the flour ( I found I needed slightly less), and then just vaguely followed the preparation directions and mixed using my Kitchen Aid. The rolls required about 5-10 minutes less baking time than suggested even though I had my convection oven set at 300 instead of 310, and 325 instead of 335 like they say.
The coolest thing is they were pretty simple compared with some of the other cinnamon roll recipes I've tried, so needless to say, this one's a keeper. I should also mention that this is the first experience I've had baking with vital wheat gluten as an additive, and I believe this is part of what pushed these over the ubergood threshold. Doing a little reading up on the subject, most of what I found suggested that this improves the volume, texture and crust of bread and helps give more of a commercial bakery result which is descriptive of my results as well. The rolls had a much better texture than what I've made before, even though the recipe is typical for a sweet roll dough.
I also made a delicious
sausage, egg and sun-dried tomato casserole
from Epicurious.com, and served everything with some fresh fruit.
The bad news is I think I tinked more one my Color on Color scarf than I knit, so I have nothing crafty to show. Boo. I did find what I think is a mistake in the instructions for section 16, which was the cause of much frustration and then relief when I finally decided to consult the photos and figured it out. I'll be searching and/or posting about this on the
yahoo board
shortly. And on that note, has anyone else noticed that the group name and the button both use the European spelling "colour", while the scarf name is acutally "color"? BUG ME! Thanks to
Carrie
for pointing that out.
Have a great weekend everyone!
Thursday, March 10, 2005
Last nights dinner
Nothing too glamourous,but a yummy compilation of the odds and ends in my fridge: Pesto pasta with sun dried tomatos and chicken
I had a box of fresh basil that needed to be pesto-ified asap, so I started there. (The secret to insanely good pesto, btw, is to toast the pine nuts.) I seasoned and sauteed a couple of chicken breasts in olive oil. Once they were browned, I added a handful of chopped shallot, let that sizzle and carmelize a bit, and then added the remains of a bottle of sun dried tomatos in oil (about 1/4 cup), let that go for a couple of minutes and then deglazed with red wine for a just slightly saucy pan-0-yum. I dolloped some of the pesto on hot cooked rotini pasta and plated, topping with the sauteed chicken. Fast, easy and delish.
I also got a head start on the Ci**abon recipe for tonights CraftyCHIX event.
Here's the big rectangle of dough waiting to have the cinnamon, sugar and butter paste spread on it:
And the snug, happy little dough babies ready to bake:
The recipe makes 15 rolls, so I put the rest into my jumbo muffin pan, and everything went into the freezer to hold overnight. I'll thaw and bake them this afternoon to gobble up tonight.
I found the recipe
here
,and in my opinion, it's a little psycho in the detail category (and written for a bread machine...puhleeze!) but the test roll I baked off last night had some serious promise, even sans frosting. I'll have some pictures of the finished product tomorrow.
Wednesday, March 09, 2005
Bead binge
I've been busy doing the contractor dance the last few days, trying to keep our house-building project moving forward. As a result, I don't have much new to report on the cooking and creating fronts so I thought I'd start digging into some past projects to remind myself of what life was like before I started spending my days on the phone talking concrete and steel or slogging around the jobsite with five pounds of mud attatched to each boot.
For a little context, it should first be understood that I am a binge crafter. Lately I've been knitting (although I'm embarassed at my lack of progress on my color on color scarf), but I can pretty much lay claim to anything from fabric to wood and sewing machines to miter boxes during any given season.
Here's a birthday gift for one of my aunts, a sterling silver and furnace glass necklace with a presentation pouch I whipped up using some purple cotton velveteen, silk, and purple suede. I made the wire components using the
WigJig
,with which the creative possibilities with wire are endless...
And here's another gift, a sterling three strand toggle bracelet with another nifty hand sewn case and beaded clasp:
Stay tuned if you're into the beading thing. I have lots to show!
Tuesday, March 08, 2005
Baking confessional
Here's yesterday's cinnamon-cardamom rolls ready to jump into the oven:
And the finished product:
Looks yummy, right? That's the nice thing about food picures. Even yucky stuff can look good.
Problem A. I realized I didn't have any Cardamom after decided to make these, so I used just Cinnamon instead. The dough calls for the cardamom to be added to it during mixing, but doing this with cinnamon made the dough a weird color which didn't make the buns taste bad, it was just a little unusual.
Problem B. I was at Penzey's a couple of weeks ago and couldn't resist buying some Galangal because it smells so enchanting and is a common ingredient in SE Asian cooking, which I adore. Galangal is fruity and floral and spicy smelling and the first thought I had was to wonder what it would be like in a sweet or dessert. Well, I'm happy I got to experiment but regretfully report that it was a bad idea. The Galangal gave the rolls a werid, petroleum overtone, kind of like that of an over-ripe mango. YUCK.
So the fresh, hot rolls made their way onto a plate to pose for a pretty photograph, and then it was into the trash with the whole batch. Heartbreaking, yes. And the worst part was that they still SMELLED really, really good. What a mean trick.
Hopefully the Cinnabons will be better. I think I'll make those for a breakfast themed CraftyCHIX this week.
Monday, March 07, 2005
Cooking and crafting
Last nights dinner:
It was a really nice day yesterday so I fired up the grill for a first time in a while and did some strips steaks and asparagus. Very good along with a baked potato with some grated Prima Donna Gouda on top. Unfortunately laziness prevented me from enjoying this with the sauteed mushrooms it deserved. Oh well.
This is acutally some of the last supermarket beef I plan on eating. I have a few more items in my freezer, and then I'm moving on to grass fed, pasture grazed beef exclusively. I've scoped out a few internet sources for this and I'm pretty sure I can buy it locally as well, but if anyone has any recommendations I'd love to hear them.
This decision is one of the consequences of reading "Fast Food Nation". Beef and poultry are now officially at the top of my shit list (along with fast food corporations) and without carrying on a boring rant, I highly recommend reading this book for some life-altering insights into the state of our food chain in this country. I think if more people had a greater awareness of what goes on behind the scenes, our diets, eating and buying habits would be drastically different. The current reality is not pretty.
On another subject, I did manage to get some knitting done on my Color on Color scarf over the course of the last few days.
Here's a couple of pictures of the finished sections 14, 15 and up to around row 55 of section 16.
It's coming along, I guess, although knitting all the I-cord for section 15 might make me crazy.
Sunday, March 06, 2005
Sunny Sunday
The croissant baking adventure is officially a success. I started late yesterday afternoon after making a run for some European butter and some yummy cheeses to snack on for dinner. I decided I'd start with the croissant recipe from Joy of Cooking, since I've never been let down by anything published in the cookbook I consider to be the desert island stand-by. I did have a slight misstep with the dough portion of the recipe, fortunately before I had swathed it around mt $8 worth of Plugra butter. Initially I followed the recipe exactly but once I added the liquid/yeast to the dry ingredients, it quickly became evident that there was too much flour in the dough. It was really stiff and dry and would have required lengthy kneading to become smooth, whereas the recipe says "knead for a few seconds until smooth". So I started over with new liquid and dry ingredients, holding back on the flour by 1/2c. Much better. Nice soft dough with just a bit of kneading. Here's my fresh butter-laden dough after two turns, ready to be rolled, envelope folded and turned again.
The JOC recipe only calls for four turns total, so I was done folding and rolling and with a finished dough in just a couple of hours. I promptly cut and rolled it up into smallish croissants, half plain and half with some freshly made almond paste from another JOC recipe (another first for me).
I baked off a few of the plain croissants last night to evaluate my success. They were delicious and boy and I gobbled up two each with some delicious French blackberry preserves and the leftover Plugra. YUM.
I put a few more on a sheet tray in the fridge to bake for breakfast, and the rest went into the freezer to enjoy on demand.
As soon as I got up this morning I pulled the tray from the fridge and let it sit at room temp for a couple of hours to rise. While the croissants were baking, I made us some cheesy eggs and fruit to go with. Here's our delicious plate of freshly baked croissants d'amande
What a treat!
My only criticism is of the almond paste, as I think it needed to be drier and stiffer. I have a lot left over that I plan to freeze for croissants round two, so I'll add some more powdered sugar to it to sitffen it up first.
Since it's so nice out today I think I'll forgo the cinnamon something baking for the afternoon and head outside while I ponder what to make for dinner.
Saturday, March 05, 2005
Doing dough
YAY! I've been waiting all week and it's finally here. My box-o-baking-love.
My ingredient goodie box includes SAF yeast, (French, because they're at the pinnacle of bread), 5lbs of bread flour, because KA has a higher protein content than typical supermarket bread flour, Italian-style flour which I ordered because it's supposed to make great thin crust pizza dough, vital wheat gluten because it's called for in the Cinnabon clone recipe (gluten is what makes dough elastic and stretchy), and a two-pound block of Merckens bittersweet chocolate which I think is a good quality, delicious all-purpose pastry chocolate that isn't prohibitively expensive.
This appears to be a lot of fuss for what are seemingly common items that I could have purchased at my local supermarket, but with bread, the yum is in the minutiae and the right ingredients really do make all the difference.
I have several cookbooks devoted to bread, but my favorite is
The Bread Baker's Apprentice: Mastering the Art of Extraordinary Bread
by Peter Reinhart. I like this book because it's got very detailed explanations about the science of bread baking and it gives extensive descriptions of bread ingredients down to the differences between popular brands of flours, yeasts, etc., and why they all produce different results. It's basically a textbook for bread baking and, recipes aside, an informative and interesting read if you're into that sort of thing.
So I guess I'm off with my first-ever attempt at Croissants. Should be interesting!
Friday, March 04, 2005
Weekend plans
I'm anxiously awaiting a delivery from
King Arthur Flour
I still haven't acted on my desire to do some serious bread baking so as soon as my box of goodies arrives, it's dough on.
I've baked quite a bit of bread in the past, but never any of the classics or much beyond regular American standards like cinnamon raisin bread or rolls. Recently, I found an absolutely amazing food blog,
Moveable Feast
It's one of those things that just grabbed my attention and wouldn't let go until I had read every single post. I was so inspired and intrigued by Louisa's tales of working as a professional cook in some of the greatest restaurants in Europe. Her's is an adventure that is richly detailed and makes for some of the best food reading on the net, IMO. Thanks Louisa!
Anyway, I've been addicted to food blogs in general lately, particularly those with really great photography. If this is your thing, do check out
Food Porn Watch
which is a continuious listing of recently updated food blogs. During my perusals of late, I ran across a recipe for a Cinnabon clone which, despite the fact that I don't actually care for the real thing, I've just got to try. Homemade cinnamon rolls happen to be one of my favorite things to make and eat and I'm always looking for ways to improve my product, so I'm going to give it a go and see what I can learn. I also found a lovely recipe complete with enticing photographs, for some Cinnamon-Caramom rolls that I had to put on my to-bake list as well. And thanks to Louisa, I'm also desperate to try making Croissants and Brioche...either that or get on the next flight to Paris...
So if I'm not dead from a butter overdose in the next few days, I should have some pictures to share soon.
My friend Nikki is hosting a girls night at her new house tonight and I'm so exicted! Boy thinks that my friends are loathe to invite me over or cook for me because I'm a food snob and my standards are too high but I don't want to believe him. I'm happy when anyone cooks anything for me and fortunately, my friends are all good cooks and great hostesses. Besides, I'd be happy to be invited over and served canned soup if it comes with good conversation and companionship.
Thursday, March 03, 2005
Sadness
Josie Boo Kitty. My friend and faithful companion. The only kitty I've ever known that answered back and came when your name was called. Always managing to find the best spot, the most comfortable, the coziest and with the most potential for snuggles. I'll miss our conversations and our disagreements and the way your black furred parts got extra warm when you layed in the sun. I'll miss your fierce loyalty and your calm presence that said everything was right in the world as long as you were by my side. Equal parts intelligent and neurotic, lovable to the end.
Thank you.
Wednesday, March 02, 2005
Needles, not a hook
When it comes to working with skeins and hanks, I am a knitting- only kind of yarn person. I don't crochet. I find the process tedious, which I realize is a little strange since I would never say that about the act of knitting. I saw a really cute crochet scarf once that I went as far as to buy all the yarn for and actually start, but I only managed to get about a tenth of it completed before I discovered (again) that crocheting, for me, just doesn't provide the kind of satisfaction that knitting does. I'm sure I'll offend a few crochet fans here, but I also find the finished products are just not as nice and the possibilities not as diverse as with knitting. That was until I saw a neato, crocheted bracelet on the cover of one of the many beading mazines out there. I just HAD to make one, as it seemed even from the photographs that the FO would be worth the tedium of it's creation.
Here's one of my completed crocheted bracelets.
It's made using upholstery thread, a bunch of size 6 beads, and a lot of danglies. You actually have to make all the baubles ahead of time, and string them and the beads onto the spool of thread before you start crocheting. From there it's a matter of picking up one bead with every crocheted stitch, and the end result is similar to tubular peyote stitch. Labor intesive, yes, but the acutal crochet process is less time consuming than making all the baubles and stringing everything (which is definitely tedious!). The end result is a fun, chunky piece of jewelry.
Here's a sparkly one in pink, using Swarvoski crystals, sterling Bali beads, Miracle beads and a nice Amethyst tipped toggle clasp:
I wish I could love crochet, I really do. My family are crocheters, and it did vaguely interest me as a kid but what I really wanted was to learn to knit and I always found it dissapointing that there wasn't anyone to teach me. And I think I always held a little bit of a grudge against crochet because it mademe feel unworthy. My mother was constantly doing it yet never had the patience to teach me because I'm a lefty and she's a righty....or at least that's the excuse she used. These days, there are a couple of crochet hooks in my knitting bag but only to use for picking up dropped stitches or fixing mistakes. So for me, needles please, no hook.
P.S. sorry the photos are not so good. must. get. new. camera. Also, my apologies for not paying proper credit to the magazine and designer responsible for this pattern...I can't seem to track it down right now.
Tuesday, March 01, 2005
Sugar higher
As promised, I have a couple more edible art projects to show off. First, a picture of the wedding cake I did for the sister of my friend Nikki. She requsted someting all white, and to dress things up a bit, I added texture with little tufts and draped ribbons. I garnished the assembled cake with a variety of fresh flowers and I think this turned a pretty cake into something absolutely fabulous. I consider myself my harshest critic, and even I would have loved to have that cake at my party. It was almost too beautiful for me to leave! The tiers were white with raspberry, marble and chocolate.
Next is a cake I made for my friend Michelle's wedding shower. She and her then fiance were going to Aruba to be married so I wanted to give them something playful and beach themed.
This was a fun miniature tiered cake. The lower tier is the beach complete with palm trees, beach towel, flip flops and writing in the sand. The middle tier is the ocean waves and the top tier is clouds and skywriting spelling "Aruba 2004", all topped off with a big bright sun. She loved it.